Reading Serial & VIN Numbers
Muncie 4 speed serial numbers begin with the letter "P". The serial number is a date code. The code will tell you which particular year the transmission was built for.
Serial numbers from 1963 to 1966 included only the month and day. P0101 would indicate January 1st.
In 1967 and 1968 the serial number got a year designator and a letter designator for the month such as P8A01, meaning January 1st 1968.If you have a Muncie dated with a December build date it was actually built the prior year. An example would be the date code P8T13. The T stands for December and 13 is the day. This is for a 1968 production car. This means the Muncie was assembled December 13, 1967 for the 1968 model year. To confirm this simply look at the VIN number. It will usually begin with a 18S101350 or a 28N12950. The VIN number will usually be a low number.
1969 to 1974 Muncies got a ratio designator at the end of the serial number. An example would be P4D23B. This equates to April 23, 1974, M21 ratio.
| Month | Letter | Month | Letter | Ratio | Letter |
| --- | --- | --- | --- | --- | --- |
| January | A | July | K | M20 | A |
| February | B | August | M | M21 | B |
| March | C | September | P | M22 | C |
| April | D | October | R | | |
| May | E | November | S | | |
| June | H | December | T | | |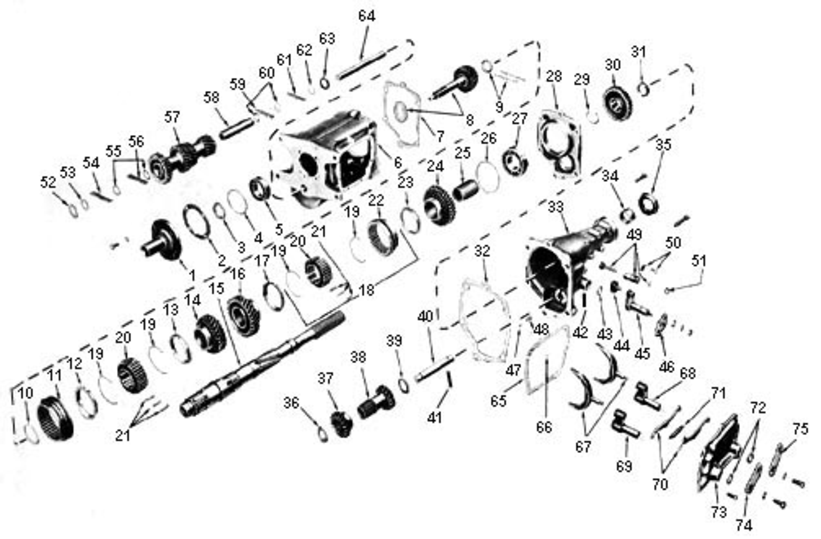 1. Bearing retainer
2. Gasket
3. Lock nut
4. Snap Ring
5. Bearing
6. Main case
7. Gasket
8. Main Drive / Input Shaft
9. Cage & Bearings
10. Snap Ring
11. Syncro Sleeve / Slider
12. Syncro
13. Syncro
14. 3rd Gear
15. Main Shaft
16. 2nd Gear
17. Syncro
18. Syncro Hub Assy
19. Spring
20. Hub
21. Syncro Key
22. Syncro Sleeve / Slider
23. Syncro
24. 1St Gear
25. 1st Gear Spacer
26. Snap Ring
27. Main Bearing
28. Mid Plate
29. Snap Ring
30. Reverse Gear
31. Speedometer Drive Gear
32. Gasket
33. Tail Housing
34. Bushing
35. Seal
36. Thrust Washer
37. Front Reverse Idler
38. Rear Reverse Idler
39. Thrust Shim
40. Reverse Idler Shaft
41. Spring Roll Pin
42. Taper Pin
43. Shaft Seal
44. Reverse Fork
45. Reverse Shift Shaft
46. Lever
47. Detent Ball
48. Detent Spring
49. Housing & Speedometer Driven Gear
50. Housing & Clamp
51. O ring
52. Thrust Washer
53. Washer
54. Needle Bearings
55. Washers
56. Needle Bearings
57. Cluster Gear / Countershaft
58. Sleeve
59. Needle Bearings
60. Washer
61. Needle Bearings
62. Washer
63. Thrust Washer
64. Cluster Pin / Counter Shaft Pin
65. Gasket
66. E Clip
67. Shift Fork
68. 1st & 2nd Shift Shaft
69. 3rd & 4th Shift Shaft
70. Detent Lever
71. Spring